5 tips on how to build the ultimate gaming PC

A gaming PC is a must for those who are looking for the ultimate gaming experience. A gaming PC offers high quality graphics and fast processors, resulting in extraordinary gameplay.  
Building a gaming PC from scratch is a good option for serious gamers who want to handpick the key components of their computer. One of the benefits is that you can spend your money on the ones that are most important to you and will enhance your onscreen experience. Many gamers start with a basic computer setup, then customise it to suit their needs.  
If you're thinking of building your ultimate gaming PC, we've answered five commonly asked questions to help you out. 
What computer should I buy for gaming?
The computer you choose to buy depends on a range of factors but mostly comes down to personal preferences. It is important to consider what's most important to you, for example, high-quality graphics, or smooth gameplay. 


How much does a good gaming PC cost?
The price of a good gaming PC varies and can cost anywhere from $800 all the way up to $5,000+. The final price will depend on the specifications of your gaming computer. 
There are many entry level budget PC's available that will let you enjoy a good gaming experience but won't break the bank. Also, there are premium gaming PC's that are optimised for the most advanced gaming experience, with features that sophisticated gamers will notice and enjoy. 
If you are looking to buy a pre-built PC, some of our top picks for gaming PCs include: 
How much RAM do I need for gaming?
Most games require a minimum of 8GB of RAM for gameplay. Although this level of memory is sufficient to run most games, they might run a bit laggy, and the graphics might be of the highest quality. 

We recommend that you opt for 16GB of RAM for optimal play. This will ensure that your game runs smoothly without lag, and with high quality graphics. 
As the requirements for games change over the years, building a PC with a surplus of memory is a good idea to futureproof yourself. This is because games become more advanced over time and need more computing resources to run optimally. Although 32GB of RAM might be overkill at the present time, opting to build your PC with surplus memory might not be a bad idea for your computer longevity.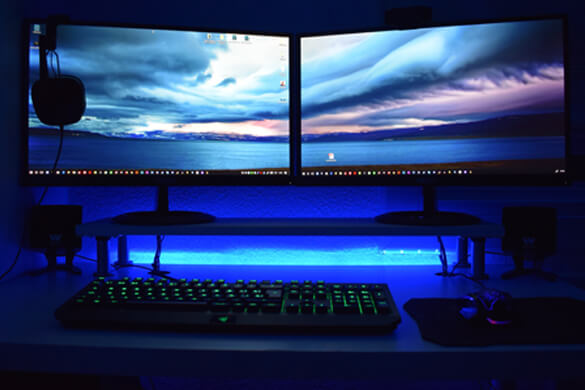 Are gaming PC's worth it?
A gaming PC is a worthwhile investment if you want a more impressive and immersive gaming experience. Avid gamers will quickly see the worth in faster load times and smooth playing. Building or buying a computer optimised for gameplay will definitely trump the performance from a pre-built standard PC. 
What components are worth spending money on and which are not?
One of the key components to spend a reasonable amount of money on is your GPU, or graphics card. This is what creates and renders images and video. GPUs with more memory can process more detail, resulting in better graphics.  
Along with this, a gaming PC must have a capable central processing unit (CPU) to support the graphics card. The CPU is the main processor that allows a computer to perform its necessary tasks. Make sure you opt for at least a mid-range CPU to ensure a high-end gaming experience. 
Choosing a good motherboard is also important, as this is the core of your PC. As its name suggests, the motherboard pulls your PC operations together and allows the different components to communicate with each other. 
Your computer case is one of the cheaper computer parts to buy. Although you want to make sure the case is good quality, as this is what holds your computer together and protects it, this is one of the components you can save some money on.  
An optical drive, which reads and writes discs, is one of the features you don't need to worry about buying for your gaming PC build. Most games don't require a disc to play anymore, as they can be downloaded or streamed straight from the internet.  
Whether you are looking to upgrade your computer, or build a gaming PC from scratch, the team at PC Pitstop are experts at helping you create a next level gaming experience. We know every gamer is unique, so we're passionate about customising your PC build to suit you. 
Are you ready to build your ultimate gaming machine? Call us on 1300 841 551, or send us a message. 
Sign up to our newsletter!
Found this article useful? Sign up to our newsletter to get handy tips and useful advice right in your inbox. You can unsubscribe any time, and we will never spam you!