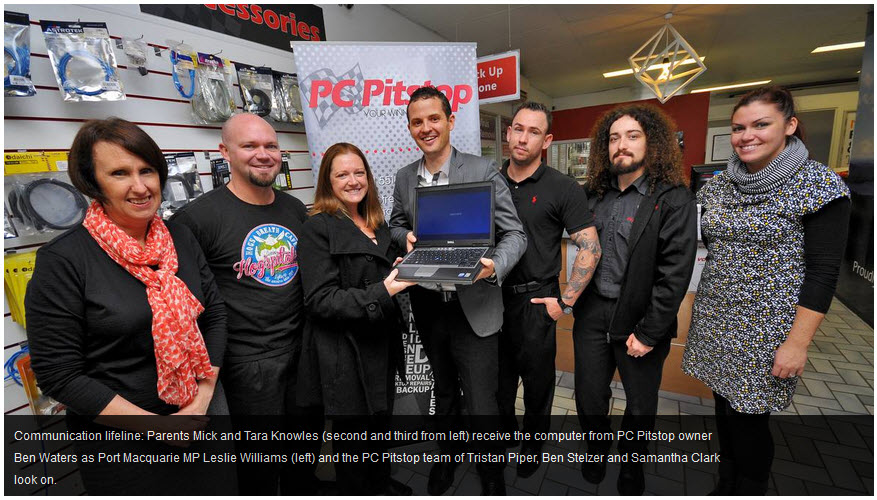 The other day we gladly gave away an ex-lease laptop to a very special Port Macquarie family. Their story is a tear-jerker, and their hearts are big. For people that ask for nothing…this was the least we could do.
A PORT Macquarie boy will make history as the first child with Hunter syndrome in Australia to have a bone marrow transplant.
This week marks the start of Jace Knowles' treatment at Westmead Children's Hospital.
The three-year-old will have his bone marrow harvested, and stored, followed by chemotherapy and a bone marrow transplant containing cord blood, the richest source of enzymes and cells.
Hunter syndrome, a rare degenerative condition, is causing Jace's organs to shut down.
Mick and Tara Knowles hope the transplant will help prevent further deterioration of their son's bones, organs, brain and muscles.
Mrs. Knowles will spend about five months in isolation with Jace followed by a stint living in a unit outside of the hospital when Jace will be monitored daily.
The community has embraced the Knowles family.
A computer package donation from Port Macquarie business PC Pitstop is the latest act of kindness.
"It's an absolute lifeline," Mrs. Knowles said about the computer.
"We were so shocked, it was unbelievable."
The laptop will help Mrs. Knowles keep in touch with her husband and children Tyla, 12, Elise, 10, and four-year-old Lacey, and will allow her to continue studying medical administration while in Sydney.
Jace can watch movies and play games on the computer when he is well enough.
Port Macquarie MP Leslie Williams helped link the family with services and approached PC Pitstop to assist the family to stay in touch.
Mrs. Williams said the Knowles family was one of many families with children who had additional needs.
"The whole community spirit is just so inspiring," she said.
PC Pitstop owner Ben Waters said the family's story played on their heartstrings.
"They never ask for anything and they are staying so bright, chirpy and positive," he said.
A fundraising committee from Columba Cottage Early Learning Centre has collected $25,000 and aims to double that by the end of the year.
About six staff will help look after the girls at times so the family can have as normal a routine as possible.
Jenna Clapton from Columba Cottage Early Learning Centre said Jace was mature beyond his years with an infectious personality.
Port Macquarie City Lions Club and a Lions foundation provided $7500 towards a car lift, and Variety the Children's Charity came on board too.
Mrs. Knowles said she was amazed at the town's support.
"We are just so appreciative and thankful for everything," she said.
"Without them, this time would have been a lot harder for us."
She thanked Mrs. Williams, her senior advisor Terry Sara and PC Pitstop for their help with the computer donation and the community as well.
Thanks to the Port News for this story and image.


#02 65 841 551  ::  sales@pcpitstop.com.au  ::  www.pcpitstop.com.au/blog