Doomsday for XP :: You could be under attack right now!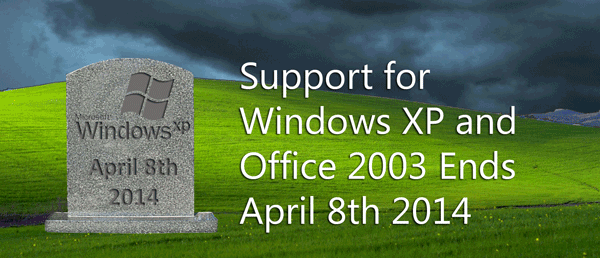 Doomsday for XP :: You could be under attack right now!
4 dys until we say Rest in Peace XP.
Are you ready for this?
"Microsoft first said it was planning to end support for Windows XP in 2007. It has since been warning consumers and businesses an upgrade is necessary to keep their computers from being run over by a train of malicious software, or malware."
READ MORE >>> Doomsday approaches for Windows XP Users
If you answer yes to any of the following questions, give us a call on 65 841 551, and as each situation has different variables we'll assess each accordingly and get your SORTED!:


Do you run any specialised software or hardware that only runs on XP?


Do you run software that needs a 32Bit operating system?


Do you run a business and share files or printers between any Windows XP based computers?


Do you run a business with new versions of Windows and Windows XP?


Are you confused about what operating system is best for you?
POINTS TO NOTE:
– Unfortunately, going from Windows XP to Windows 7 and above is not just a simple upgrade. There are just too many differences between the versions of Windows.
– A full migration of all your information needs to take place and you may need to purchase newer versions of software to compliment your computer (i.e Microsoft Office). All you programs and settings will be lost in the migration and will have to be setup manually again. It is a big job, but something the team here at PC Pitstop do every day. Our team are well equipped and will plan and work through with you to make the migration as smooth as possible.
– Your printer or a piece of hardware may also be too old to run the newer version of Windows and an additional investment may need to be made there too. We must assess each situation on a case-by-case basis.
– Additionally, our team can even come to your premises and spend the time to set everything up just the way you like it. We also go as far as offering one on one lessons to help you feel comfortable with your new system. ($85/hour instore, $99/hour at your premises)


#02 65 841 551  ::      sales@pcpitstop.com.au  ::  www.pcpitstop.com.au/blog