8 Essential Ergonomic Checks to Save Stress on your Body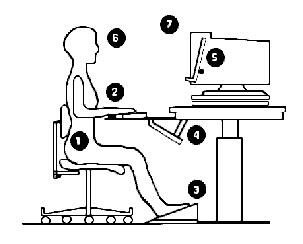 Ergonomics is about the relationship between you and your computer and shouldn't be ignored. Here's our 8 Essential Ergonomic Checks to Save Stress on your Body:
Your chair should be adjustable to provide good support to your lower back and allow up/down movements for you to choose a comfortable height with the keyboard.
Body posture
It should be as shown with right angles at the elbow, hip, and knee. The head should be held in a neutral position facing straight ahead with the eyes looking forward or slightly down.
A footrest
Footrest may be needed if the operator's feet do not comfortably reach the floor. Circulation will be affected if over extension of the feet occurs, as is the case when the user wears high-heeled shoes.
The keyboard
A keyboard support table can be adjusted to allow proper upper body posture. The keyboard should be detachable to permit flexible positioning. A wrist rest offers the worker maximum comfort for extended hours of work.
General lighting
Reduce glare onto the screen by appropriate placement in the room. The workstation should be oriented, so the operator does not face an unshielded window or a bright light source. The screen should be tiltable to help eliminate screen reflections. LED screens or glare-resistant filters with help to eliminate other sources of light on the screen.
A document holder
It should be adjustable in height and angle of tilt sitting at or just below screen level, allowing the operator to hold their head in the neutral position.
The display monitor
It should be positioned so that the distance from the eye to the screen can be adjusted. Monitors placed too high or low will increase musculoskeletal and visual tension plus fatigue to the back and neck.
Environmental factors
It is important that environmental factors such as temperature, humidity (30-70%), and noise (<75dbA or as low as achievable) be kept within acceptable ranges.
Love our Computer Tips and Want More? Subscribe to the Blog above or Follow us on Facebook!