Pics that will SHOCK YOU – From the Funny & Not-so-Funny Files!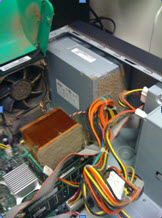 Furry with dust – common desktop interior


Pet hair build-up in drives


A nice big ball of removed computer fuzz


Damp Rid – the coastal computers best friend


Oh. More dust. Yep, this is why we all need a cleanup every 6-12mths!


This one is interesting. Mouse poop inside a near new machine. But the worst part…the mouse pee shorted the motherboard. Ouch!