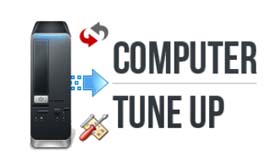 Computer Tune Up
In and Out Like a Pitstop!
Don't pay extra for faster repairs – just pay a visit to PC Pitstop!
Renowned for our quick turnaround time, we fully equip our workshops with state of the art diagnostic and repair equipment as well as diversely trained staff so that you have solutions sooner.
We Keep You Informed Every Step of the Way
At PC Pitstop we understand the importance of good communication, so we'll call when we say we will. And if you're anything like us, you probably have solid a relationship with your machine and want to know if everything's going to be ok. We get it.(And if it's not ok, we promise to break it to you gently!)
So you'll always be in the loop with us.
We're up to date
Our library of support manuals, subscriptions to technical publications, and ongoing specialist training keep our support crew up to date with the latest trends as they emerge.
Each PC Pitstop technician offers unique interests, creative thinking, and problem solving skills to the mix – making PC Pitstop Your One Stop Shop for all Things IT.
And with over 45 years combined experience why would you trust your equipment to anyone else?
Contact PC Pitstop today to arrange an appointment for either an onsite repair or workshop repair services and we'll get you back and racing in next to no time.

Services can be arranged 5 days per week to suit your schedule:
Monday – Friday: 9am – 5pm
Saturday: 9am – 12pm
(Store pickup and drop off only on SAT, no technicians available)
Call PC Pitstop Port Macquarie on 65 841 551 to discuss your computer issues. Alternatively you can submit a service online at any time.