Your Computer Repair – Here's What Happens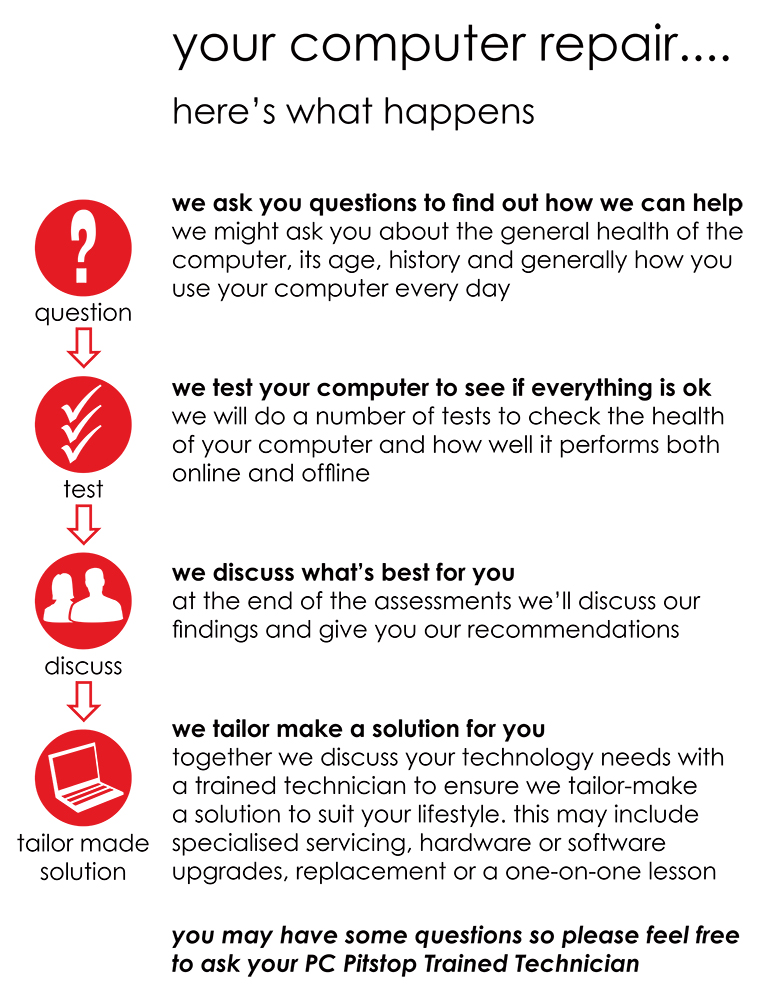 Team PC Pitstop
TRISTAN PIPER
Sales Manager

Winning Work: iPhone/iPod/iPad repairs.

Best Tech Tip: "Ask the experts. No question is a silly question except for those not asked. Ask before action sometimes saves so much stress and mess!"

BEN 'JAMES' STELZER
Technical Specialist

Winning Work: Mac's and new technologies.

Best Tech Tip: "Invest in the very best quality products – hardware, software, peripherals, the works – for YOUR specific needs. The big department stores' hype is not always right."

DANIEL PEGLER
Technical Specialist

Winning Work: Desktop maintenance, custom builds and software knowledge.

Best Tech Tip: "Don't wait till it's too late. Tuneup your computer and clean the bugs out like you would your car and it will serve you well for a much longer life."

BEN WATERS
Engineer & Managing Director

Winning Work: Onsite business consultations and tech needs analysis to increase productivity for everyone within the business.

Best Tech Tip: "You haven't really backed up until you've backed up 3 times. Let us set it and then you forget it."

SAMANTHA CLARK
Managing Director

Winning Work: Training staff and developing the most efficient systems for delivering winning customer service, products and solutions.

Best Tech Tip: "Leave it to the experts. So much more can go wrong when us 'common folk' fiddle – it saves time and money and good advice certainly saves sleepless nights!"
The entire PC Pitstop team undertake practical and customer specific training to sustain and affirm the very best service to all our valued customers – so you know you'll be looked after – everytime.

Thank You
We'd like to thank our loyal customers, new customers and soon-to-be customers in advance – because without customers we are nothing but shopkeepers!
Net Registry




Authorised




Reseller

Authorised




Microsoft




Repairer

Quickbooks




Authorised




Reseller

HP Partner

HP Repairer

Gigabyte Partner

Dell




Authorised




Support
The Story So Far
PC Pitstop began in Camden Haven in 1998 by local boy Ben Waters, an Electronic Engineer who dabbled in computer repairs in his spare time. He soon realised the computer cowboy complaint was all too common and so determined to make a change. Encouraged after talking to his happy customers and his mentor about a lingering idea, PC Pitstop was born.
Starting from a rented work bay in Laurieton, Ben grew his business into a respected IT service organisation. Quickly outgrowing this and other locations, PC Pitstop settled in Lake Cathie and Ben and his new team and new fiancee opened a second shop in Port Macquarie in late 2010
Together, this energetic and talented team are continuing to grow a strong community conscious business, employing local technicians and changing the face of the IT industry to one that is knowledgeable but friendly, approachable, and honest and reliable too.
Late August 2012 the Lake Cathie store merged into the Port Macquarie store, making one busy PC Pitstop centre of sales, support and repairs.
Ben's original ethos of helping other embrace technology through excellent service and support is clearly evident. Now with PC Pitstop Port Macquarie and PC Pitstop Online Store winning races, it's clear this is only the beginning for the dynamic Team PC Pitstop!


#02 65 841 551 :: sales@pcpitstop.com.au :: www.pcpitstop.com.au/blog