Do you love PC Pitstop?

NSW Fair Trading's popular I love my local business competition is back for 2014.

In its work to promote a fair marketplace, Fair Trading recognises that the vast majority of local businesses do the right thing and play a critical role in the local community. That is why NSW consumers are being encouraged to nominate their favourite local business by telling Fair Trading, in 60 words or less, what they love about them and why. There are six prizes of $250 to be won!
Consumers can nominate a local business which goes out of their way to do the right thing by their customers. It might be because of their excellent customer service, or the fact they proudly sponsor charitable and community causes; it might simply be that they are really good on the tools or have the funkiest retail shop in town!
All shortlisted entries will be promoted on Fair Tradings Facebook page, which has close to 40,000 followers. Shortlisted and winning entries may attract local media interest.
We have also created some resources for businesses to use to help them promote the competition to their customers, including a downloadable poster, web images and more. Go to the I love my local business page on the Fair Trading website to find out more.
The competition runs from Monday 13 October – Sunday 9 November 2014.
For more information and to enter go to Fair Trading's Facebook page at www.facebook.com/FairTradingNSW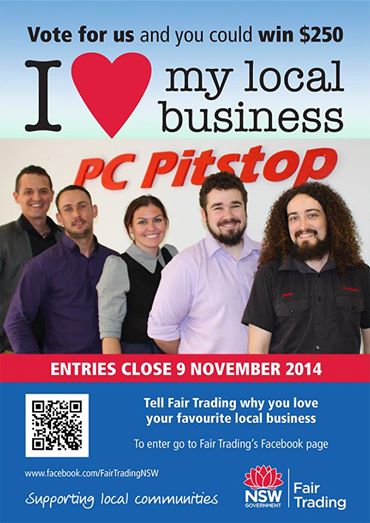 #02 65 841 551 :: sales@pcpitstop.com.au :: www.pcpitstop.com.au/blog