If your computer looks anything like the one on the left we can only assume you don't use it that much…perhaps as a paperweight more than anything??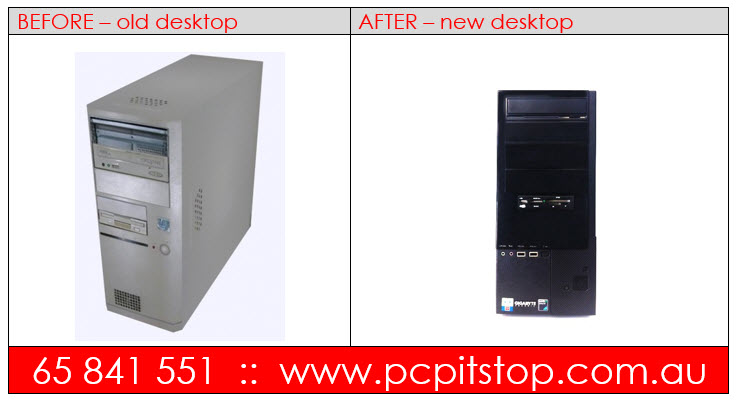 Of course, looks are certainly not everything but BEIGE is a common determination of age and performance at first glance for most IT technicians these days.
If your computer is more than 5 years old…

Does it run slow? Do you forget what you opened a program for because it took so long to open?

Do people complain that they can't open documents you send them?

Is the back of the computer rusty or dusty?

Do you use your computer daily?
If you answered YES to all of these it is time for a new computer!

Do you have enough USB Ports for all your peripherals and devices?

Do you have recent backups of everything of precious documents and pictures?

Do you have trouble opening programs or loading new programs?

Do you run a business on this computer?
If you answered YES to all of these too, then the time for a new computer is NOW!
Bring your old computer into PC Pitstop and your Trained Technician can help you find the right replacement computer for you, transfer your data and talk you through your new machine. Plus, our Computer Manual & Service Planner – FREE with your new computer purchase – explains a myriad of questions you might have and tables a maintenance plan to keep you on track!
Your time is valuable, dont waste it waiting on sub-standard technology. We'll help you, your family or your business become more productive TODAY!

65 841 551 SALES@PCPITSTOP.COM.AU WWW.PCPITSTOP.COM.AU