Helpdesk :: Remote Access
It's good to know you can call on someone when you need computer assistance.
Our team at PC Pitstop are all trained to take your call, provide a solution in real time, or find one fast and get back to you like we promise to do.
It's just another part of your Excellent Customer Service Experience at PC Pitstop.
Call us today and experience the difference for yourself – 65 841 551!
Remote Access Support
Remote Access Support is an efficient means to provide the support you need without an onsite visit.
You hold the key, granting access to your PC Pitstop Trained Technician to provide assistance to any of your computers over the internet.


It's the perfect simple support solution from PC Pitstop.

Remote Access Support 60 minutes

$85
Access Point
:: FOR REMOTE ACCESS CLIENTS ::
:Click below when advised by your PC Pitstop Trained Technician: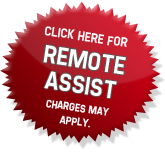 #02 65 841 551 :: sales@pcpitstop.com.au :: www.pcpitstop.com.au/blog