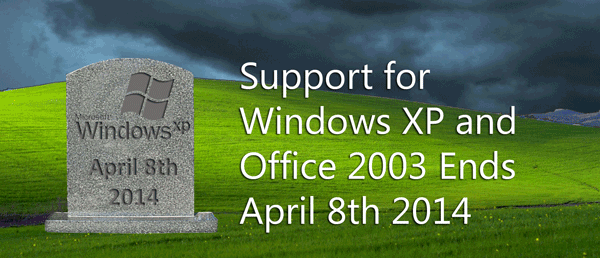 Avoid Virsues from End of XP Support :: Upgrade Now!
"On April 8 2014, almost thirteen years after it was first released, Windows XP will finally breathe its last breath and die — officially, anyway. From that date, Microsoft will no longer support the inveterate Operating System, meaning instability bugs and security vulnerabilities will go forever unpatched.
With Windows XP's desktop market share still around 30%, and many enterprises still months or years away from upgrading to Windows 7/8, these unsupported and insecure machines represent a serious risk to the health and security of the internet and other high-tech infrastructure. If just a single vulnerability is found after April 8, it will never be fixed. There's no telling what damage cybercriminals might sow with such an exploit.
It's important to note that the Windows XP EOL/EOS (end of life/end of support) has been a long time coming. We've known since June 2008 that Microsoft would withdraw paid assisted support, security updates, and non-security hotfixes for Windows XP on April 2014. There will also be no further updates to online technical documentation. While this is obviously an issue from a security perspective, the larger issue is compliance — if you manage personal data (which is basically every big company), there are industry and federal security regulations (PCI, Sarbanes-Oxley, HIPAA, etc.) that you need to comply with. Using a non-supported operating system, and thus dangerously exposing your client database to hackers, is a compliance no-no."
Exert from ExtremeTech Blog.
If you answer yes to any of the following questions, give us a call on 65 841 551, and as each situation has different variables we'll assess each accordingly and get your SORTED!:

Do you run any specialised software or hardware that only runs on XP?

Do you run software that needs a 32Bit operating system?

Do you run a business and share files or printers between any Windows XP based computers?

Do you run a business with new versions of Windows and Windows XP?

Are you confused about what operating system is best for you?
POINTS TO NOTE:
– Unfortunately, going from Windows XP to Windows 7 and above is not just a simple upgrade. There are just too many differences between the versions of Windows.
– A full migration of all your information needs to take place and you may need to purchase newer versions of software to compliment your computer (i.e Microsoft Office). All you programs and settings will be lost in the migration and will have to be setup manually again. It is a big job, but something the team here at PC Pitstop do every day. Our team are well equipped and will plan and work through with you to make the migration as smooth as possible.
– Your printer or a piece of hardware may also be too old to run the newer version of Windows and an additional investment may need to be made there too. We must assess each situation on a case-by-case basis.
– Additionally, our team can even come to your premises and spend the time to set everything up just the way you like it. We also go as far as offering one on one lessons to help you feel comfortable with your new system. ($85/hour instore, $99/hour at your premises)

#02 65 841 551 :: sales@pcpitstop.com.au :: www.pcpitstop.com.au/blog